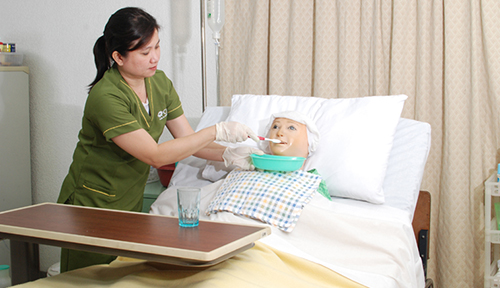 Question: When you were still a child, what did you wish to be when you grew up? More likely, you thought about being in health care as a doctor or a nurse.
Being in health care is one of the best jobs you can ever have. For one, you get to save a life, one way or the other. Second, it is lucrative, not to mention in demand. After all, in every stage in your life, you need a health professional!
But with so many career choices, which one should you pick? To help you find out, you might want to ask yourself the following questions:
How much effort do I need to learn? Often, pursuing a health career requires at least 4 years in formal education, including months of on-the-job training.
How much is my budget? In general, a health-related course is not cheap, especially in the Philippines where scholarships for these programs are few. However, certain courses like caregiving or licensed practical nursing are more affordable than the others.
How do you envision your workplace? If you love the rush of an ER, then a hospital is where you should be. If you love genetics, research may be a much better fit for you.
Where do I plan to work? While health professionals seem to be in demand everywhere, the types of jobs offered can vary depending on locations. For example, in Japan, they require caregivers while the Middle East needs nurses.
What do I love? This requires a deeper soul-searching, but at the end of the day, it is about doing what you are passionate about. Passion fuels motivation and gives you more reason to stay committed, improve yourself, and provide better service.
How CHP Cebu Can Help
The Center for Healthcare Professions Cebu can also help you pave the way for the right career in health care. We can:
Perform pre-assessment: We have awesome career counselors and evaluators who can give you sound advice on the best career choice based on your qualifications, training, experience, and objectives.
Provide you with various options: CHP Cebu offers a wide variety of health-related courses including but not limited to licensed practical nursing, emergency medical services, caregiving, massage therapy, and pharmacy assistant training. These courses also vary in terms of costs, possible job after graduation, and schedules—this is a school that guarantees flexibility in learning.
Give you career support even after graduation: Need more guidance. We are here, always ready to help. Our years of experience in the field, our amazing team, and our host of partners in the public and private sectors, among others, make us capable in this area.
We understand that choosing the right health career can be daunting. Self-doubt is nothing but a very natural emotion when faced with indecisions. Yet CHP Cebu is here to kick those clouds of anxiety away. We guarantee we are with you every step of the way. After all, our greatest pride and joy is seeing you succeed and reach your dream.