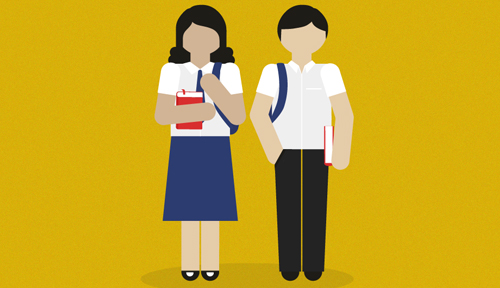 The K-12 program in the Philippines is on a roll. Not only does it guarantee universal kindergarten training, but it also means two more extra years in high school, which will be referred to as senior high.
The program comes with advantages. One, it now makes us at par with most nations, at least in terms of the number of years in school. Students who'd like to enroll in college overseas won't have to spend a few more years in high school.
Further, completing the tracks provides high school students the tools needed to truly succeed in college, as well as the knowledge and expertise to land them a job in case they don't want to pursue college anymore.
Despite these, senior high school presents challenges to both students and parents:
Can poor parents still afford to send their children to school for two more years? In poorer communities, parents usually encourage their kids to find employment once they've completed high school.
Are there enough schools to accommodate senior high school students?
Are the schools nearby offer tracks that the students are interested in?
CHP Cebu Promotes Senior High
Senior high school presents a tough learning curve for all relevant parties. It's new, it's not completely understood, and it's costly. Nevertheless, parents, students, and educational institutions can find a good partner in Center for Healthcare Professions Cebu.
CHP Cebu has been providing technical vocational courses around Cebu and the nearby Visayas region for decades—a proof of its credibility, good reputation, and quality education and training.
The training center provides more than 20 different types of tech-voc training, some of which are accredited by TESDA for both learning implementation and assessment.
With senior high school, CHP Cebu offers all of its courses to students who wish to explore the fields of healthcare, foreign languages, housekeeping, and wellness. The center is also adding more very soon such as baking and pastry and hairdressing.
Not only that, CHP Cebu:
Provides reasonably priced courses and accepts government vouchers worth 20,000 pesos to bring the costs down further. Students now have a much higher chance to complete their high school education.
Gives high-quality training pursuant to the established rules and regulations of the industry, as well as according to the demands and learning needs globally. Senior high school students who wish to work after can now receive certifications that can give them more job opportunities whether here in the Philippines or abroad.
Helps senior high school students choose the best track for themselves. This can prevent a possible job mismatch.
Brings the training to the students. Some of the poorest or underserved communities are those of the indigenous peoples and families living in rural or remote areas. These individuals normally don't have easy access to a school, which prevents them from getting the education they need. To resolve this problem, CHP Cebu partners with different government agencies and schools so we can deliver mobile training to them.
For more information about our senior high program, please contact us here.