Accredited Competency Assessment Center
TESDA pursues the assessment and certification of the competencies of the middle-level skilled workers through Philippine TVET Qualification and Certification System (PTQCS). The assessment process seeks to determine whether the graduate or worker can perform to the standards expected in the workplace based on the defined competency standards. Certification is provided to those who meets the competency standards. This ensures the productivity, quality and global competitiveness of the middle-level workers.
TESDA has a Registry of Certified Workers which provides information on the pool of certified workers for certain occupations nationwide.
The Center for Healthcare Professions Cebu is an accredited assessment center with its poolof registered competency assessors who conduct competency assessment process for persons applying for the certification:
Source: http://www.tesda7.org/usage.php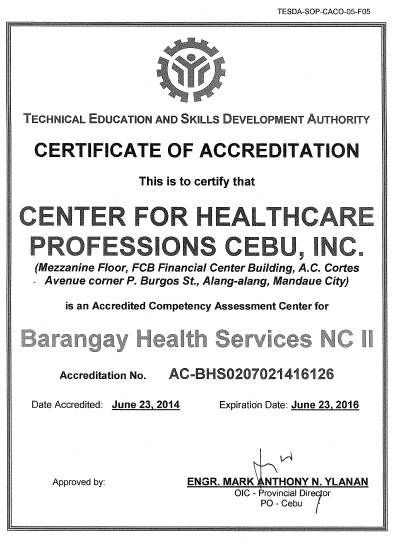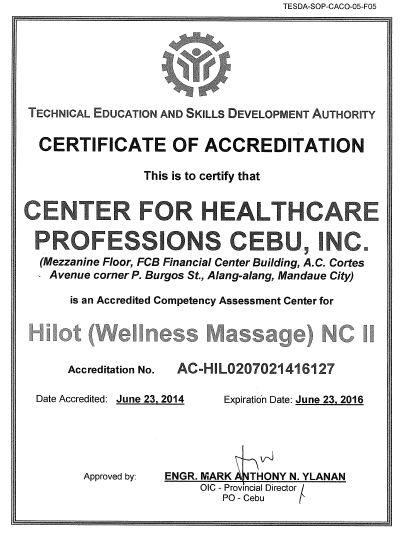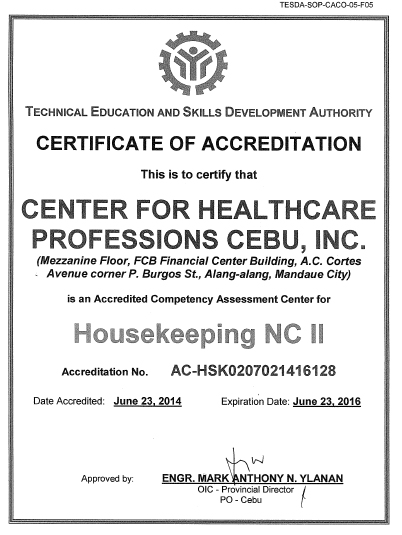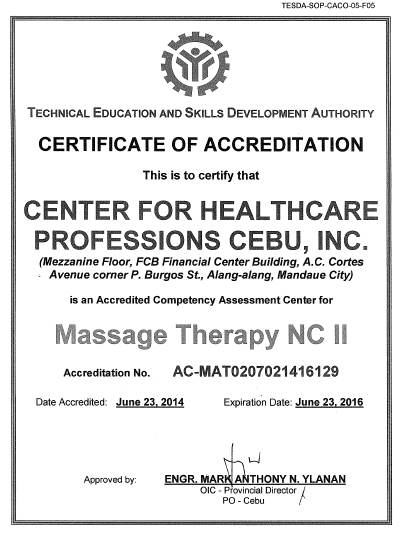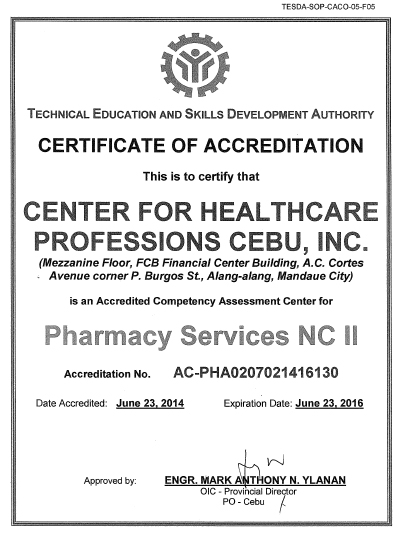 Pictures in Passport Size, white background, with negative and attire with collar – 3 pcs.
Brown envelope, Long – 1 pc.
Plus any Two (2) of the following (original to be shown:
Certificate of Employment
Certificate of Work Experience
Transcript of Records (TOR)
Philippine Passport
Birth Certificate issued by National Statistics Office (NSO) or by City/Municipal Civil Registrar
Marriage Contract, if married
Endorsement Letter from POEA-registered Placement Agency
Employment Contract
Work Permit
Work Visa
Professional Regulatory Commission (PRC) License
LTO Professional Driver's License
Procedure to Apply for Competency Assessment
Comply requirements.
Visit Assessment Center for registration.
Pay Assessment Fee of Php500.00.
Wait for the advise of final schedule of assessment.
On the day of National Competency Assessment, please do the following:

Wear scrubsuit, or something decent and conservative: white shirt, long pants and rubber shoes
Please bring the following:

Housekeep NCII

Apron
Face mask
Hairnet
Old newspapers
A pair of black leather shoes

Household Services NCII

Apron
Hairnet
A pair of slippers
Face mask
Rubber gloves

Health Care Services NCII
Emergency Medical Services NCII
Caregiving NCII
Pharmacy Services NCII
Barangay Health Services NCII
Massage Therapy NCII / Hilot  (Wellness Massage) NCII

Face towel
Face mask
Hairnet
For more details, please look for Marilyn D. Juaton at Tel. Nos. (032) 420-1880 / 0917-7770587.